Buy-In, John Kotter.
The authors reveal how to come to the rescue of good ideas by winning the support needed to protect good ideas so that they can survive. A fictional narrative is presented through which the authors demonstrate how to respectfully engage objectors and adversaries with convincing responses. A five-point strategy for fending off attacks on ideas is presented. The core of the strategy is respect and respecting people who are offering comments or asking questions that can undermine support. The authors argue that by anticipating the attack strategies used by detractors they can be turned to your advantage. The book is divided into two parts. Part one demonstrates how an idea is saved by using the counter intuitive strategies promoted in the book. The second part goes into detail about four ways in which good ideas are killed, twenty-four attacks and twenty-four responses, and a quick-reference guide for saving good ideas.
Giant steps:
creating innovations that change the way we work
,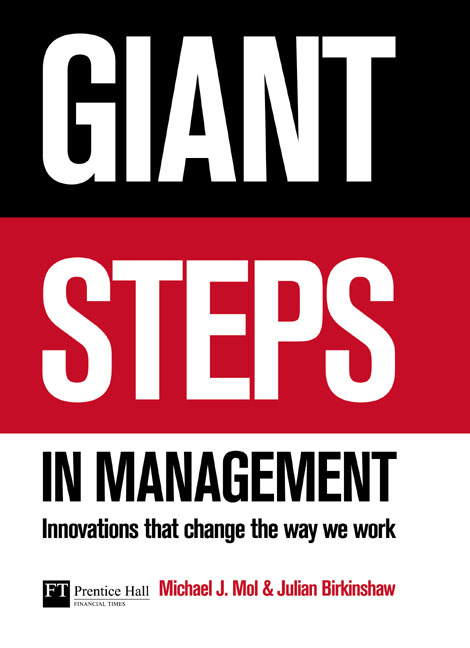 Mol, Michael J; Birkinshaw, Julian. A compilation is offered of 50 giant steps in management in which the key innovations in management practice over the last century are fluently described. The authors condense a wealth of knowledge into brief 3-4 page overviews of each innovation complete with insights and anecdotes relating to each step. The concepts are grouped into six categories; process, money, people, internal structures, customer and partner interfaces and innovation and strategy. The book includes stories of the management innovators at the centre of these concepts.
Open leadership: how social technology can transform the way you lead,
Li, Charlene. In Open Leadership, the author provides a discussion and examination of the impact on the enterprise of social media and on how it can transform leadership. The book describes how and why social media technologies are affecting a shift away from centralised management to a style of open, collaborative leadership. The book is in three major sections, demonstrating and defining Openness, creating an Open strategy, and establishing Open leadership. Examples and guidelines to guide organisations through planning and executing an Open strategy are included as well as case examples from CISCO, Ford, Best Buy and others.