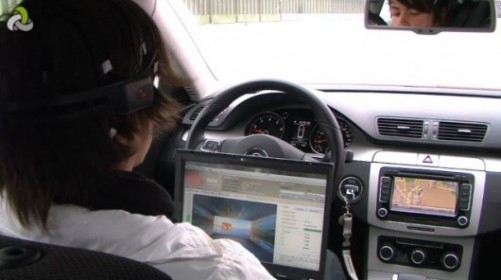 German researchers from the
Free University of Berlin
, have developed a revolutionary technology that allows control of a vehicle only with the mind. Using sensors, already commercially available, being used in the
EEG
, the researchers were able initially to separate bioelectric brain waves created when a driver thinks of commands such as "turn left", "turn right", "throttle hit" "brake", etc.
Then, they were able to develop an interface that connects the sensors with the computer-controlled car. In this way, the mental command through the sensor is transferred to the computer of the vehicle, to execute. Thus, the car actually controlled by the mind of the driver.
The first test drive took place at the former airport Tempelhof in Berlin. The driver wore a special "helmet" with brain sensors that could control the vehicle without problem. There was only a slight lag between the mental command and realization (of course, enough to make the system currently, critical for real-road driving), said AI Professor
Raul Rojas
, head of the program, which aims to design the "autonomous vehicle "of the future.
The first car of the species is a modified
Volkswagen Passat
Variant 3c-named BrainDriver. The head headset with 16 sensors, worth about $ 300, built by U.S. firm
Emotiv
, was originally intended for video games.
The driver must first be trained in relevant software, moving with the thought of various virtual objects-properly before using the device for driving.

Watch the video:
Among other things, according to "
New Scientist
", a vehicle for driving with thought, would be very useful for people with disabilities.
The design of machines, destined to be controlled by human thoughts is a constantly developing field of research, as demonstrated in the recent annual meeting of the
American Association for the Advancement of Science (AAAS)
, which announced several initiatives under way, especially in neuro-prosthetic robotic limb controlled mentally. Moreover, researchers of the Federal Polytechnic School of Lausanne in Switzerland showed a helmet head with which the user can guide a robot mentally around a room.
P.S. A similar brain
sensor technology
is also utilized to control a bionic limb, guidance wheelchair with the mind, and the remote control of portable electronic devices such as
iPad
.