Music and Emotion: Theory and Research by Patrik N. Juslin & John A. Sloboda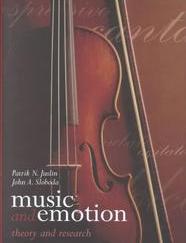 The position of emotion in music has been a subject of considerable interest and debate. However emotional aspects of music have received surprising little attention in the 45 years since the publication of Leonard Meyer's classic work 'Emotion and meaning in music.' During that time, both 'music psychology' and 'emotion' have developed as lively areas of research, and the time is fitting therefore to try and bring together this multidisciplinary interest and take stock of what we now know about this important relationship.
A new volume in the Series in
Affective Science
, Music and Emotion; Theory and Research brings together leading researchers interested in both these topics to present the first integrative review of this subject. The first section reflects the various interdisciplinary perspectives, taking on board views from philosophy, psychology, musicology, biology, anthropology, and sociology. The second section addresses the role of our emotions in the composition of music, the ways that emotions can be communicated via musical structures, the use of music to express emotions within the cinema. The third section looks at the emotions of the performer - how do they communicate emotion, how does their emotional state affect their own performance. The final section looks at the ways in which our emotions are guided and influenced while listening to music, whether actively or passively.
Music and Emotion is a timely book, one that will interest psychologists, musicologists, music educators, and philosophers.
>> Music and Emotion