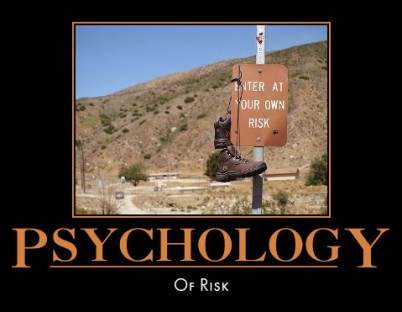 (Photo Credit: Marcus Smith)
The notion of risk has been subject to detailed study within psychology. This established body of research has addressed a number of conceptual issues relating to
risk perception
, behavior and decision making; and it has sought to examine these issues from within a number of diverse theoretical perspectives.
---
Learn About The Psychology of Risk
---
Psychology And Decision Making:

Masters level resource which forms part of a comprehensive Open University business and management unit. The unit is designed to get you thinking about how people take decisions.

You can access this great resource by

Clicking Here

.
Not All Risk is Created Equal:




Recently published study from Daniel Kruger et al from The University of Michigan refuting standard theories of risk which group people as either risk-seeking or risk-avoiding, suggesting in contrast that individuals can exhibit a mix of both risky and non-risky behavior.


Click Here

to access a full text PDF file of this research paper.
Risk Taking:




Outstanding resource written and hosted by Dr David J. Llewellyn. Dr Llewellyn is a Research Associate in Epidemiology at the University of Cambridge (UK). He studied at the University of Strathclyde and the University of Manchester, gaining a first class BA (Hons), an MEd with distinction and a PhD entitled "The psychology of physical risk taking."



Click Here

to visit This Must Bookmark Website.


10 Ways We Get The Odds Wrong:



Very interesting Psychology Today article written by Maia Szalavitz, addressing the fact that we are basically terrible at assessing modern risks.
You can read this engaging article in full by

Clicking Here

.

5 Dangerous Things You Should Let Your Kids Do:
In the following video, Gever Tulley, founder of the Tinkering School, talks about our drive to overprotect our children and and spells out 5 dangerous things you should let your kids do. Tulley argues that allowing kids the freedom to explore will make them stronger, smarter and actually safer.


---
Recommended Psychology of Risk Reading
---
The Psychology of Risk by Glynis M. Breakwell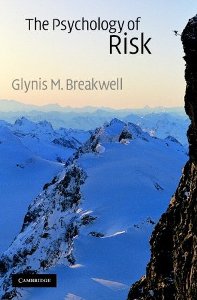 Book Description
Risk surrounds and envelopes us. Without understanding it, we risk everything and without capitalising on it, we gain nothing. This accessible new book from Glynis M. Breakwell comprehensively explores the psychology of risk, examining how individuals think, feel and act, as well as considering the institutional and societal assessments, rhetorics and reactions about risk.
Featuring chapters on all the major issues in the psychology of risk including risk assessment, hazard perception, decision-making, risk and crisis management, risk and emotion, risk communication, safety cultures, the social amplification and social representation of risk and mechanisms for changing risk responses, Breakwell uses illustrations and examples to bring to life the significance of her research findings. She provides an innovative overview of current knowledge on the subject but also suggests that there are many fascinating questions still to be answered.


See following link for more details:


The Psychology of Risk